Our Inspiration
Guruji Yogabramharishi Prabhakar

Guruji, Shri Yogabramharishi Prabhakar is the inspiration for us to develop and present MyWP (My Wonderful Pregnancy Program).
If you want to see a wise man in action, be with Guruji.
His wisdom has unfolded itself over the years with his constant contemplation on the present state of the world and his inward journey to silence.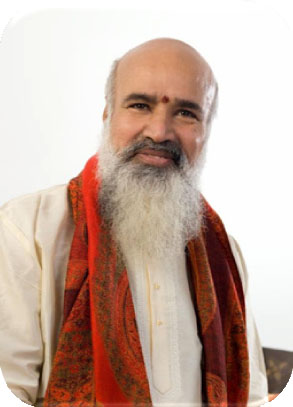 He loves simplicity and lives that way; appreciates the power of truth and nonviolence.
He best embodies the principles of Gandhiji for social action. He inspires like Vivekananda in his vedantic understanding. He sits quietly like Sant Gyaneshwar in silence. He dances like Sant Tukaram in ecstasy. He abandons like a child and is loved like that divine child of Brindavan. He is austere like Ramana Maharishi and is a visionary like Aurobindo. All of them have influenced him deeply by the grace of his beloved Guru Sri Bhagwan Vishweswariah.
He also has been trained as, an aeronautical engineer, computer scientist and, management scientist in some of the best universities of the world.
He has trained himself in many other fields by associating himself with great souls like Sri Anna Hazare. His expertise is also in World Economics, Architecture, Agriculture, and Environment.
He graduated with high honours in Engineering from the Bangalore University, India. He received assistance from Carleton University in Ottawa, Canada, to continue his Masters in Aeronautical engineering from the University of Ottawa. He later obtained Master of Business Administration (MBA) from the University of Western Ontario, Canada. He is a scientist, engineer, active environmentalist, and so much more... His expertise also extends to world economics, architecture, and agriculture.
His quest for truth had taken him to various masters including Maharishi Mahesh Yogi and his Guru Bhagawan Sri Vishweswaraiah. His life gives light to the seekers of truth that one need not desert one's family or job, abandon their responsibilities and retire to forests to begin an inward journey to achieve their innate joy.
He is married to Arundhati Ma and has a son Master Sidhhanth. Like King Janaka & the ancient sages and saints, Guruji is a living example to show that enlightenment does not mean living a secluded and remote life.
He loves to live the life of a wandering monk, living on whatever is offered in love to promote his work. A silent meditator, he is an active inspiration of simplicity and dynamism for thousands around the world. There are hordes of people whose lives have been touched by him and his dedicated band of leaders.
Above all this, he is a child accessible to all those who care to search out his company. Without a bank account, possessing nothing as his own, living on whatever is offered in love, working joyfully for the welfare of all, wherever he is, Poojya Guruji is the living embodiment of the great masters of India.